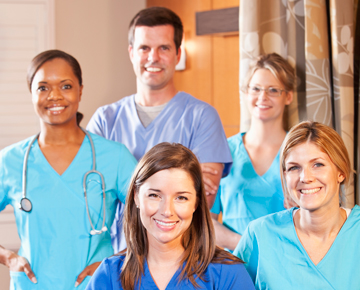 What is a Hospitalist?
A Hospitalist is a physician dedicated to caring for patients while in the hospital. Our Hospitalists are Internal Medicine physicians who have a special interest and training in hospital medicine. They work in partnership with your primary physician to ensure that you receive the best care possible throughout your hospitalization. All hospitalists at St. Joseph are licensed in the state of Idaho and are board certified or board eligible in Internal Medicine.
Why does St. Joseph use hospitalists?
At St. Joseph, we are always looking for the best ways to provide our patients with the best care possible. Research demonstrates that hospital patients cared for by Hospitalists receive a higher level of care, experience fewer complications, recover faster and have a better outcome. Hospitalists are available 24 hours a day and can respond quickly to your needs. Your primary care provider understands the benefits offered by these specially trained physicians and has requested that our Hospitalists manage your care throughout your hospital stay.
How long will I see a hospitalist during my stay?
You will see the Hospitalist once a day or more during your stay. Each day, the Hospitalist will review your test results, answer your questions, monitor your progress and modify your medications as needed. And because a Hospitalist works only in the hospital, they are readily available to you and your family for questions and concerns.
What if I need to see a specialist?
As with your primary care provider, St. Joseph Hospitalist physicians work with specialists and departments throughout your hospital stay. They communicate regularly with all of the specialists and can arrange for any special care that you may need.
Will my primary care provider be kept informed during my hospital stay?
Absolutely! When you are admitted to the hospital, your primary physician is immediately notified. Your primary care provider has trusted our Hospitalist physicians to care for you while you are in the hospital. There is a high level of communication and teamwork between everyone involved. Once you are discharged, you will resume receiving care from your primary care provider.