St. Joseph Regional Medical Center Welcomes First Baby of 2022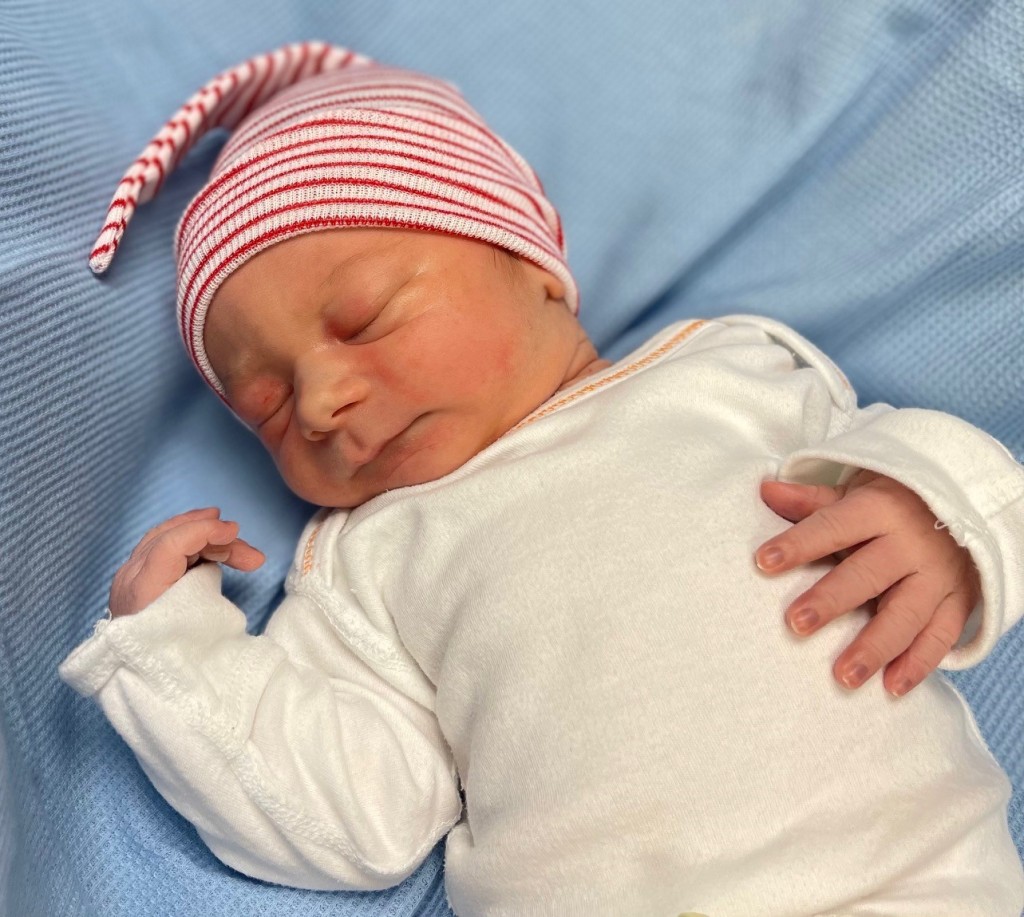 FOR IMMEDIATE RELEASE


Contact:
Sam Skinner, Marketing & Communications
208.750.7377 office | Sam.skinner@sjrmc.org
St. Joseph Regional Medical Center Welcomes First Baby of 2022
LEWISTON, IDAHO – Welcoming nearly 700 babies in 2021, St. Joseph Regional Medical Center is welcoming the first bundle of joy of 2022 today. Weighing 8 pounds and 11 ounces and measuring 21.5 inches, baby boy Kyser was born to Sherilyn and Brycen, Saturday, Jan. 1, at 1:22 p.m.
"It's exciting that he arrived on his due date, 1-1-22, and was born at 1:22 p.m. It's super special," said Sherilyn. "This is such a fun way to celebrate the New Year and we love that he's being celebrated by everyone." Kyser joins a big brother. "We had our first baby at St. Joe's and we chose to come back because we had a great experience," she added.
"It's a true privilege to help local families welcome their newest additions," said Rori Santana, Manager of Family Beginnings at St. Joe's. "Our clinical and support staff love what they do and are committed to creating a safe, welcoming and comfortable environment for moms and babies. We're honored when families choose St. Joe's."
About St. Joseph Regional Medical Center Family Beginnings
St. Joe's Family Beginnings is committed to providing high-quality, compassionate care close to home for new and expecting parents in the region. Family Beginnings offers a team of obstetricians, pediatricians, a certified nurse midwife, registered nurses – many with additional and specialized labor and delivery certifications, certified lactation educators, car seat technicians and other support staff. Families receive education and encouragement before, during and after the birth of a baby. Additionally, Family Beginnings is a Safe Sleep certified program, demonstrating a commitment to community leadership in educating and promoting safe infant sleep practices.
Family Beginnings at St. Joe's is recognized as a Blue Distinction Centers+ for Maternity Care. Blue Distinction Centers+ are healthcare facilities and providers recognized by Blue Cross Blue Shield for their expertise and efficiency in delivering specialty care. To learn more about Family Beginnings and delivering a baby at St. Joe's visit sjrmc.org.
About St. Joseph Regional Medical Center
St. Joseph Regional Medical Center, part of ScionHealth, is the largest full-service regional medical center between Boise and Spokane providing advanced-level specialty healthcare. Our commitment to providing safe, exceptional care for our community means having highly skilled and certified physicians on our healthcare team and a quality facility with the latest in medical technology. St. Joseph has more than 120 board-certified physicians and providers, active in both primary care and specialty practice. We seek to enhance the quality of life of the citizens we serve in our local communities through the promotion of health, by assuring compassion, sharing knowledge, providing technology, and communicating a love for what we do. St. Joseph Regional Medical Center – Making Communities Healthier® by Continuing the Healing Ministry of Jesus.
For more information about St. Joseph Regional Medical Center, visit sjrmc.org. For more information about ScionHealth, visit ScionHealth.com.
###
Read All Posts