St. Joseph Cancer Center & Blood Institute Earns National Accreditation from the Commission on Cancer of the American College of Surgeons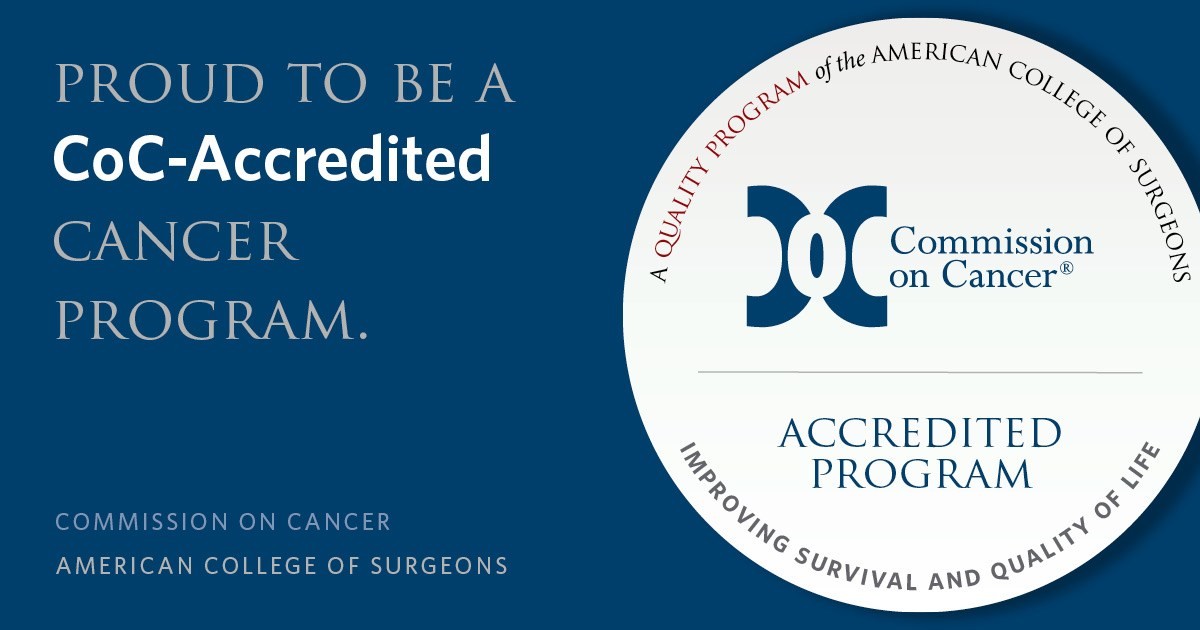 Contact: Sam Skinner, Marketing & Communications
208.750.7377 office | Sam.skinner@sjrmc.org
Accreditation recognizes Cancer Center for excellence in patient care
LEWISTON, ID –The Commission on Cancer (CoC), a quality program of the American College of Surgeons (ACS), has once again granted Three-Year Accreditation to the cancer program at St. Joseph Regional Medical Center. To earn voluntary CoC accreditation, a cancer program must meet 34 CoC quality care standards, be evaluated every three years through a survey process, and maintain levels of excellence in the delivery of comprehensive patient-centered care.
As a hallmark of being a CoC-accredited cancer center, St. Joseph Cancer Center & Blood Institute takes a multidisciplinary approach to treating cancer as a complex group of diseases that requires consultation among surgeons, medical and radiation oncologists, diagnostic radiologists, pathologists, and other cancer specialists. This multidisciplinary partnership results in improved patient care.
Dr. Michael Rooney, who serves as the Cancer Liaison Physician for the CoC and St. Joes' multidisciplinary cancer committee commented, "St. Joes is proud to have earned this accreditation continuously since the late 1970s. Our program treats patients from around the region with high-quality, patient-centered care. From efforts to promote early diagnosis to surgery, medical oncology, radiation oncology, along with excellent nursing, rehab and other supportive services, St. Joe's delivers optimal care by employing the latest, best practices and meeting those quality standards essential to treating such a complex disease. We continue to meet the high standards set by the Commission on Cancer."
"When cancer strikes you, your family or loved ones, you want the highest-quality patient care closest to home," said Ed Freysinger, CEO of St. Joseph Regional Medical Center. "You want to be cared for by a team recognized for excellence and be supported by family and friends. We continue to invest in the Cancer Center & Blood Institute and cancer services at St. Joe's ‒ just this past year, we've added two medical oncologists, a nurse practitioner and a radiation oncologist to our team ‒ to bring the best care possible to this community. We believe this accreditation, and our track record of positive patient outcomes, validates our efforts.
Importantly," Freysinger continued, "we are also replacing one of our linear accelerators with new, state-of-the-art accelerator, which will allow for additional modalities and more effective operations. The new linear accelerator will be one of the most, if not the most, advanced of its type in the Pacific Northwest."
The linear accelerator is a machine and system that generates the radiation energy used to treat patients, otherwise known as Radiation Therapy. In addition to linear accelerator, St. Joe's has also purchased a positron emission tomography with computed tomography (PET/CT) scan machine which is used to accurately diagnosis and monitor cancer during treatment. "The purchase of PET/CT will allow the hospital to provide this service to more patients in 2023," Freysinger added.
The CoC Accreditation Program provides the framework for St. Joe's to improve its quality of patient care through various cancer-related programs that focus on the full spectrum of cancer care including prevention, early diagnosis, cancer staging, optimal treatment, rehabilitation, life-long follow-up for recurrent disease, and end-of-life care. When patients receive care at a CoC facility, they also have access to information on clinical trials and new treatments, genetic counseling, and patient-centered services including psycho-social support, a patient navigation process, and a survivorship care plan that documents the care each patient receives and seeks to improve cancer survivors' quality of life.
Like all CoC-accredited facilities, St. Joe's maintains a cancer registry and contributes data to the National Cancer Data Base (NCDB), a joint program of the CoC and American Cancer Society. This nationwide oncology outcomes database is the largest clinical disease registry in the world. Data on all types of cancer are tracked and analyzed through the NCDB and used to explore trends in cancer care. CoC-accredited cancer centers, in turn, have access to information derived from this type of data analysis, which is used to create national, regional, and state benchmark reports. These reports help CoC facilities with their quality improvement efforts.
The American Cancer Society estimates that approximately 2 million cases of cancer will be diagnosed in 2023. There are currently more than 1,500 CoC-accredited cancer programs in the U.S. and Puerto Rico, CoC-accredited facilities diagnose and/or treat more than 70 - 75 percent of all newly diagnosed patients with cancer. When cancer patients choose to seek care locally at a CoC-accredited cancer center, they are gaining access to comprehensive, state-of-the-art cancer care close to home. The CoC provides the public with information on the resources, services, and cancer treatment experience for each CoC-accredited cancer program through the CoC Hospital Locator at https://www.facs.org/search/cancer-programs.
About St. Joseph Regional Medical Center
St. Joseph Regional Medical Center, part of ScionHealth, is the largest full-service regional medical center between Boise, Idaho and Spokane, Wash. providing advanced-level specialty healthcare. Our commitment to providing safe, exceptional care for our community means having highly-skilled and certified physicians on our healthcare team and a quality facility with the latest in medical technology. St. Joseph has more than 100 board-certified physicians and providers, active in both primary care and specialty practice. We seek to enhance the quality of life of the citizens we serve in our local communities through the promotion of health, by assuring compassion, sharing knowledge, providing technology and communicating a love for what we do. St. Joseph Regional Medical Center – Making Communities Healthier® by Continuing the Healing Ministry of Jesus.
For more information about St. Joseph Regional Medical Center, visit sjrmc.org. For more information about ScionHealth, visit ScionHealth.com.
About Commission on Cancer
Established in 1922 by the American College of Surgeons, the CoC is a consortium of professional organizations dedicated to improving patient outcomes and quality of life for cancer patients through standard-setting, prevention, research, education, and the monitoring of comprehensive, quality care. Its membership includes Fellows of the American College of Surgeons. For more information, visit: www.facs.org/cancer
# # #
Read All Posts