At the turn of the 20th century, the Rev. Hubert A. Post, St. Joseph's appointed pastor of St. Stanislaus Church in Lewiston, worked diligently to have a hospital established to care for the sick in a largely unreligious community. His appeal for help was answered by three Sisters from the midwest.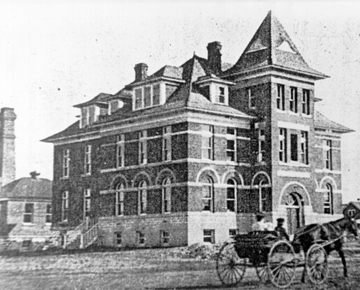 Sister Aurelia Bracken, Sister Angelica Heenan, SSJ (Sisters of St. Joseph of Tipton, Ind.) and Sister Dominica Ryan, SSJ (Sisters of St. Joseph of Belvedere, Ill.), arrived in Lewiston and began working on establishing a hospital.
On Feb. 8, 1902, St. Joseph Hospital, a seven-room frame house, opened at 325 Snake River Ave. The three sisters worked day and night, providing not only nursing care, but also doing all of the cooking and cleaning. Despite the rugged conditions and limited space, the community recognized the need for a larger hospital and banded together to build and open a 50-bed facility in 1903 on 4.6 acres deeded to the sisters by the Jesuit Fathers. The hospital was built of bricks at its current location of 415 Sixth St.
The Sisters formed the Sisters of St. Joseph of Idaho. The hospital was incorporated as a nonprofit corporation in March 1918. However, the influenza epidemic took its toll on Sisters caring for the ill. From October 1918 to July 1919, seven Sisters died from influenza.
That same year, the St. Joseph School of Nursing was established and six years later, the Sisters of St. Joseph of Idaho joined with the Sisters of St. Joseph Carondelet. From these rugged and challenging beginnings, the sisters forged the current St. Joseph Regional Medical Center. Today, it's the largest hospital between Boise and Spokane. The spirit and dedication of these original sisters still lives today through our philosophy, mission, and values.
We celebrated our 116th birthday with the unveiling of our new History Wall. Located on the first floor, between the west entrance and the diorama, the History Wall honors St. Joseph Regional Medical Center's beginnings, 116 years of service, and future!