Making heart health a priority
Heart health is about more than just your heart. Blood pressure, cholesterol, family history and other factors all play important roles in keeping your heart strong. If you have questions about your heart health but aren't quite sure where to begin, start with a heart health assessment and learn more about any risks you may have for heart-related conditions. Your journey to a stronger heart starts here.
The St. Joseph Heart Center offers the most comprehensive cardiology services between Boise and Spokane.
Next Steps
If you are having chest pain or an emergency, call 911 now
9-1-1
Need help finding a Doctor or Cardiologist? We can help.
Find A Doctor
ACC Chest Pain Accreditation
The American College of Cardiology recognizes St. Joe's for its demonstrated expertise and commitment in treating patients with chest pain. Earning accreditation endorses the staff's ability to evaluate, diagnose and treat patients who may be experiencing a heart attack.
Learn more
Nationally Accredited
We earned our accreditation from the American College of Cardiology, meaning we meet or exceed quality of care measures for your patients who may be having a heart attack or other cardiac event.
St. Joe' offers the most comprehensive cardiology services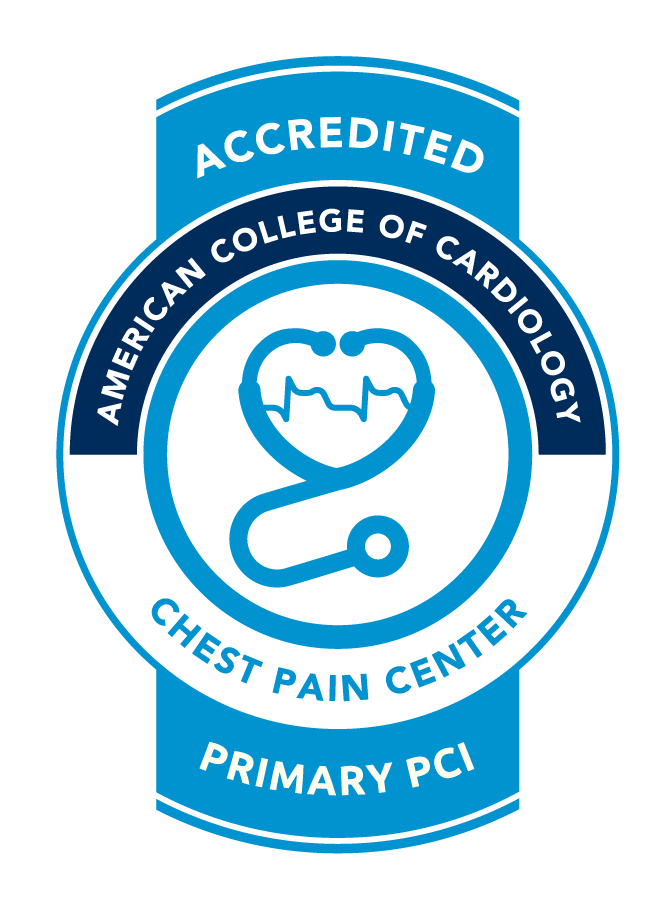 between Boise, Idaho and Spokane, Wash., providing care you need, close to home.
The Highest Levels of Cardiac Care
The national benchmark for obtaining and interpreting an EKG is 10 minutes. At 8 minutes, St. Joe's consistently outperforms this benchmark, which facilitates early diagnosis of a heart attack for patients coming directly to our ED.
We understand that every minute counts when you're experiencing a heart attack. National standards* encourage a door-to-balloon time (the time between first medical contact and the opening of a blocked artery) of 90 minutes or less. At St. Joe's, our average door-to-balloon time is consistently less than 60 minutes, and we've taken patients door-to-balloon in as little as 11 minutes.
Collaborative Pre-Care
Our emergency department is integrated with the local emergency medical system (EMS), allowing our team to initiate a STEMI Alert from the field/home, which means significantly faster treatment times for our patients.
Post-Cardiac Care
We provide comprehensive cardiac care including but not limited to care for coronary artery disease (CAD), heart failure, arrhythmias, hypertension and more. We have dedicated Heart Failure and Device Clinics that operate on the most up to date evidence-based practice.
Cardiac Services
St. Joseph Regional Medical Center provides high-quality cardiovascular services 24/7. Our physicians coordinate your care during a cardiac emergency - when time matters most. St. Joe's has a state-of-the-art interventional procedure lab, along with an onsite clinic, offering everything from preventative to diagnostic cardiology services and follow-up care.
We are available to diagnose and treat all types of heart problems from common to complex including:
Acute Myocardial Infarction
Stable Coronary Artery Disease Using balloons, Stents, and Rotoblation
Congestive Heart Failure Including Biventricular Pacemaker Devices
High blood pressure
Evaluation of Chest Pains, Shortness of Breath, & Palpitations
Heart Rhythm Problems, Syncopal Episodes
Pacemaker, Internal Defibrillator, & Loop Recorder Implantation
Pacemaker Follow-Up, Adjustment, and Battery Replacement
Preventative Cardiology
Women's Heart Disease
---
Patient Care Team