Ribbon Cutting, Reception, and Open House for New Acute Rehabilitation Unit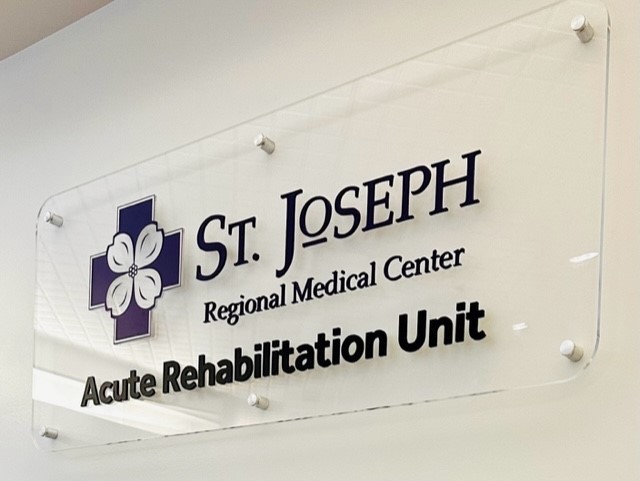 St. Joseph Regional Medical Center Announces Ribbon Cutting, Reception, and Open House for New Acute Rehabilitation Unit
St. Joseph Regional Medical Center invites the community to celebrate the opening of the new Acute Rehabilitation Unit (ARU) on Friday, October 27, 2023. The ribbon-cutting ceremony will take place at 3 p.m. at St. Joseph Regional Medical Center. A reception and tour will follow.
The ARU is the only inpatient rehabilitation center in the area that provides care to adults who have lost function or have a disability due to illness or injury. The 10-bed ARU has a gym with state-of-the-art equipment for rehabilitative therapies and private rooms for patients recovering from various conditions, including stroke, brain injury, spinal cord injury, orthopedic injury, neurological conditions, amputation, and trauma.
Ed Freysinger, CEO of St. Joseph Regional Medical Center, says, "This new service enables our facility to provide a broader range of acute-level, physician-led rehabilitation expertise while avoiding the disruption of transferring a patient to a separate facility. With enhanced capabilities, expertise, and clinical integration – all under one roof – we are better positioned to deliver superior outcomes for our most clinically complex patients."
The ARU will have an interdisciplinary team of physicians, nurses, physical therapists, occupational therapists, speech-language pathologists, and other health professionals who will design a treatment plan to help patients restore lost ability and function. The intensive therapy and monitoring that follow will help patients regain skills more quickly and safely. The goal is to support patients while they recover so they can return home and resume normal activities.
As explained by Acute Rehabilitation Unit Program Director Mandie Seubert, patients will receive at least three hours of therapy each day for at least five days a week under the direction of a physiatrist − a doctor specialized in rehabilitation and physical medicine. The ARU will provide 24/7 nursing care to ensure patients are well-cared for during their stay.
Lifepoint Rehabilitation will manage inpatient rehabilitation services and provide St. Joseph Regional Medical Center with programs and best practices in quality rehabilitation services. It is a leading provider of rehabilitation program management services that serve to enhance productivity and program performance and provide staff training in more than 100+ centers and other post-acute care settings across the nation. It consistently outperforms national industry averages on quality measures.
Ribbon Cutting Ceremony
Where:
St. Joseph Regional Medical Center
415 6th Street, Lewiston, ID 83501
Take the main entrance elevators to the 5th floor and follow the signage to the 6th floor unit.
When:
Friday, October 27, 2023, from 3 to 5 p.m.
Contact Information:
Desiree Silva
St. Joseph Regional Medical Center
Director of Marketing and Communications
208.750.7377
Read All Posts