Employee of the Year - 2023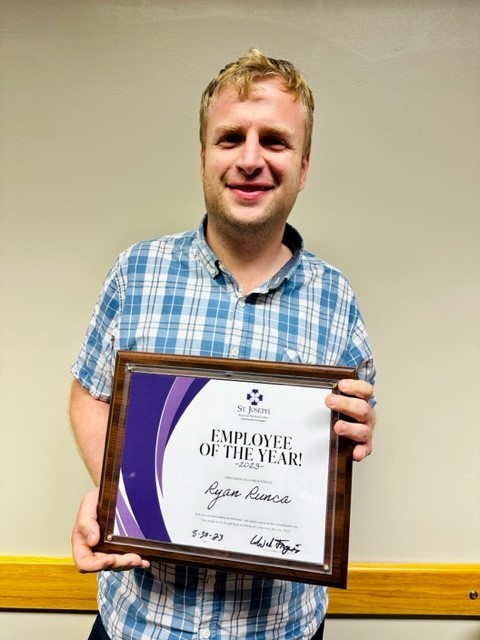 We are delighted to announce and celebrate Ryan Runca as St. Joseph Regional Medical Center's Employee of the Year! Ryan joined our team just over a year ago as a Server Engineer in our Information Technology (IT) Department, and he has quickly become an invaluable asset to our organization. Staff from across the hospital regularly recognized him for his exceptional service.
Ed Freysinger, St. Joseph Regional Medical Center's Chief Executive Officer, acknowledged Ryan's significant contributions and expressed his appreciation. He emphasized that loyal and hard-working employees like Ryan are the foundation of St. Joe's and that his hard work has been instrumental in our ability to deliver excellent medical care to our community. Ryan truly deserves this prestigious honor.
Radley Hogaboam, the Director of Information Technology, described Ryan as a proven high performer and an excellent collaborator. Ryan's ability to consistently deliver exceptional results and his willingness to work effectively with others have made him an indispensable member of our IT department.
Ryan humbly accepted the award and thanked his family for their unwavering support. He acknowledged that his success would not have been possible without their encouragement and teamwork. Ryan praised his colleagues in the IT department, recognized their hard work, and thanked them for their collaboration.
Once again, congratulations to Ryan on being named St. Joseph Regional Medical Center's Employee of the Year. We are proud to have him on our team and look forward to his continued contributions to our organization's success.
Read All Posts