St. Joseph Regional Medical Center Welcomes First Baby of 2023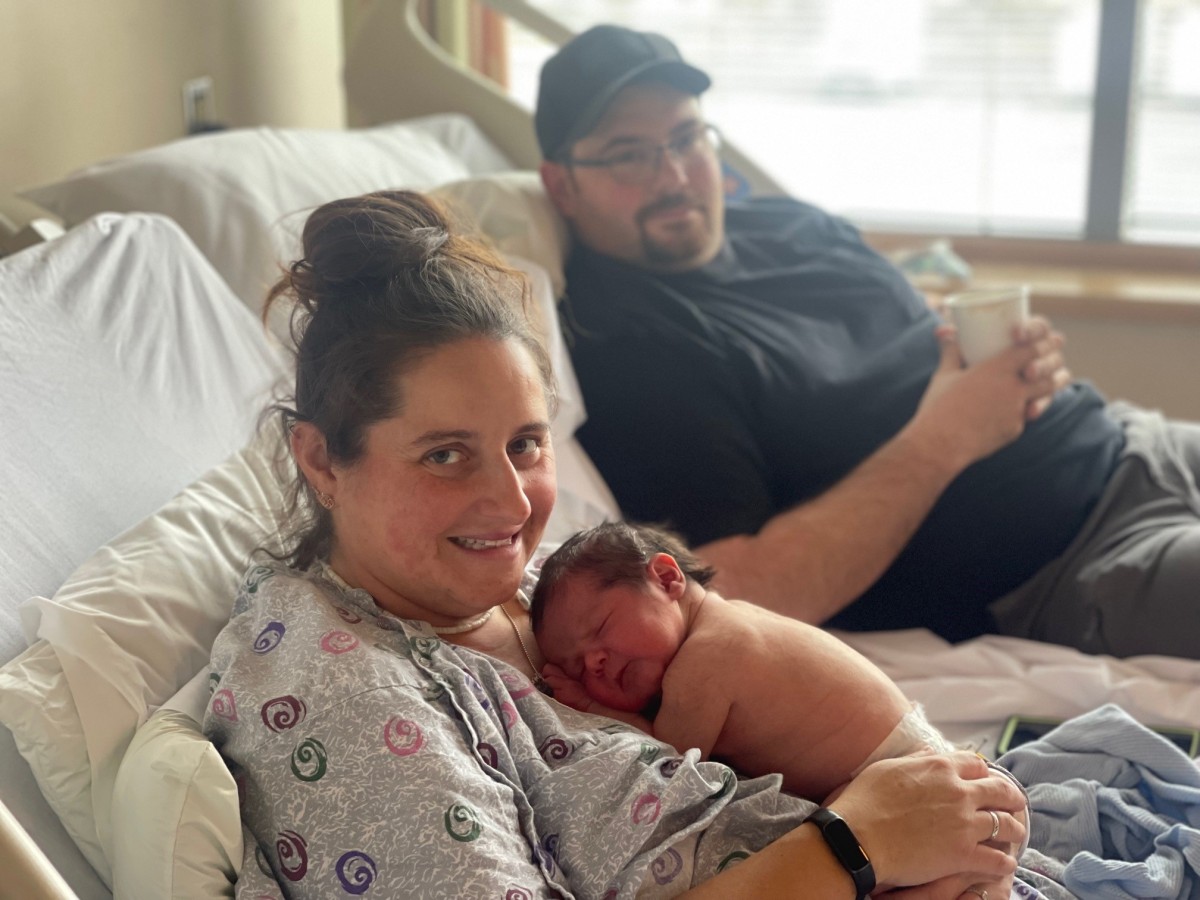 Contact: Sam Skinner, Marketing & Communications
208.750.7377 office | Sam.Skinner@sjrmc.org
LEWISTON, IDAHO – St. Joseph Regional Medical Center welcomed the first baby of 2023 at 4:17 p.m. today. Weighing 8 pounds and 8.5 ounces and measuring 21 inches, baby boy Connor was born to Michelle and Andrew Chandler and joins an excited big brother, Liam.
Arriving a few days earlier than planned, Connor was delivered by Dr. Alex Watson. Mom and baby are doing well, and Dad as shared, "everyone is happy and healthy."
"It is such a privilege to care for newborn patients, their mothers and families in our community," said Rori Santana, Director of Women and Children's Services at St. Joe's. "We're honored when expecting parents choose St. Joe's. Our labor and delivery team is committed to providing the best maternity care possible, focusing on ensuring women and infants receive individualized, safe and compassionate care."
Last month, U.S. News & World Report, the global authority in hospital rankings and consumer advice, named St. Joseph Regional Medical Center a 2022-2023 High Performing hospital for Maternity Care (Uncomplicated Pregnancy). This is the highest award a hospital can earn for U.S. News' Best Hospitals for Maternity Care. Read more online at sjrmc.org/maternity.
Current Obstetrics & Gynecology physicians and a certified nurse midwife on Medical Staff at St. Joseph Regional Medical Center, in addition to Dr. Watson, include Geneen Bigsby; DO, Lindsay Kern, MD; Leif Sjoren, DO; and Andrea Hedrick, CNM. More information about these providers can be found at sjrmc.org/find-a-doctor.
About St. Joseph Regional Medical Center Family Beginnings
St. Joe's Family Beginnings is committed to providing high-quality, compassionate care close to home for new and expecting parents in the region. Family Beginnings offers a team of obstetricians, pediatricians, a certified nurse midwife, registered nurses (many with additional and specialized labor and delivery certifications), certified lactation educators and other support staff. Families receive education and encouragement before, during and after the birth of a baby. Additionally, Family Beginnings is a Safe Sleep certified program, demonstrating a commitment to community leadership in educating and promoting safe infant sleep practices.
Family Beginnings at St. Joe's is recognized as a Blue Distinction Centers+ for Maternity Care. Blue Distinction Centers+ are healthcare facilities and providers recognized by Blue Cross Blue Shield for their expertise and efficiency in delivering specialty care. To learn more about Family Beginnings and delivering a baby at St. Joe's visit sjrmc.org/maternity.
About St. Joseph Regional Medical Center
St. Joseph Regional Medical Center, part of ScionHealth, is the largest full-service regional medical center between Boise and Spokane providing advanced-level specialty healthcare. Our commitment to providing safe, exceptional care for our community means having highly skilled and certified physicians on our healthcare team and a quality facility with the latest in medical technology. St. Joseph has more than 120 board-certified physicians and providers, active in both primary care and specialty practice. We seek to enhance the quality of life of the citizens we serve in our local communities through the promotion of health, by assuring compassion, sharing knowledge, providing technology, and communicating a love for what we do. St. Joseph Regional Medical Center – Making Communities Healthier® by Continuing the Healing Ministry of Jesus.
For more information about St. Joseph Regional Medical Center, visit sjrmc.org. For more information about ScionHealth, visit ScionHealth.com.
###
Read All Posts