St. Joseph Regional Medical Center Begins Construction of New Acute Rehabilitation Unit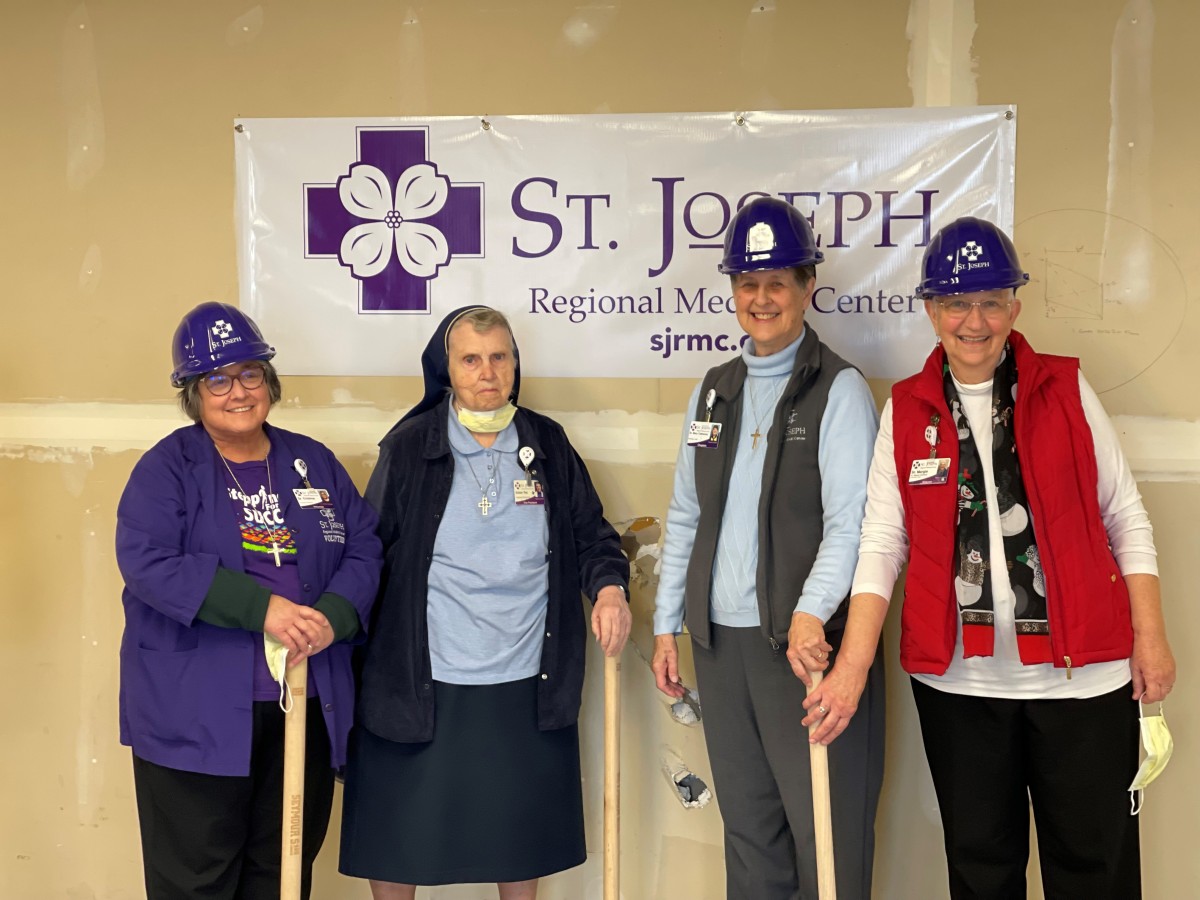 Unit will offer the area's only inpatient rehabilitation services
LEWISTON, IDAHO – St. Joseph Regional Medical Center announced today it is beginning construction of a new rehabilitation unit which will be located on the sixth floor inside the hospital. The $6 million project is scheduled to be finished mid-June 2023. Once complete, the acute rehabilitation unit (ARU) will provide the area's only inpatient rehabilitation and will help adults who have experienced a loss of function or disability due to injury or illness.
A wall-breaking ceremony took place today along with a blessing of the space. Father Mike St. Marie, from All Saints Catholic Church, conducted the blessing shortly before several Sisters started swinging sledgehammers to ceremoniously begin demolition. Sisters taking part in the event included Sr. Pat Rosholt, Sr. Mary Catherine Siminski, Sr. Christine Robertson and Sr. Margie Schmidt. Official construction will begin next week. Bouten Construction of Spokane, Wash. is the general contractor of the project.
The 10-bed ARU will include a gym with state-of-the-art equipment used in rehabilitative therapies and feature all private rooms for patients recovering from conditions that include stroke, brain injury, spinal cord injury, orthopedic injury, neurological conditions, amputation and trauma. The new unit will provide the intensive, interdisciplinary clinical and rehabilitation services necessary for improved function and independence, facilitating patients' recovery so they can be discharged and return to their homes.
"St. Joe's is committed to responding to the needs of our community and providing care that's close to home," said Taylor Rudd, Chief Operating Officer at St. Joe's. "Inpatient rehab is a service that is not otherwise offered within a 100-mile radius, and we want to ensure this is available in our community and of the highest quality possible. Adding a dedicated, ARU to our hospital will enable St. Joe's to provide acute-level, physician-led rehabilitation expertise while avoiding the disruption of transferring a patient to a separate, out-of-area facility. We will be better positioned to deliver superior outcomes for our most clinically complex patients."
Patients will be able to receive needed therapy services under the direction of a doctor specialized in rehabilitation and physical medicine and also receive 24/7 nursing care. The rehabilitation unit will provide services to both St. Joe's patients as well as patients from other healthcare providers in the region.
About St. Joseph Regional Medical Center
St. Joseph Regional Medical Center, part of ScionHealth, is the largest full-service regional medical center between Boise and Spokane providing advanced-level specialty healthcare. Our commitment to providing safe, exceptional care for our community means having highly skilled and certified physicians on our healthcare team and a quality facility with the latest in medical technology. St. Joseph has more than 120 board-certified physicians and providers, active in both primary care and specialty practice. We seek to enhance the quality of life of the citizens we serve in our local communities through the promotion of health, by assuring compassion, sharing knowledge, providing technology, and communicating a love for what we do. St. Joseph Regional Medical Center – Making Communities Healthier® by Continuing the Healing Ministry of Jesus.
For more information about St. Joseph Regional Medical Center, visit sjrmc.org. For more information about ScionHealth, visit ScionHealth.com.
Read All Posts