Success Spotlight: Stanley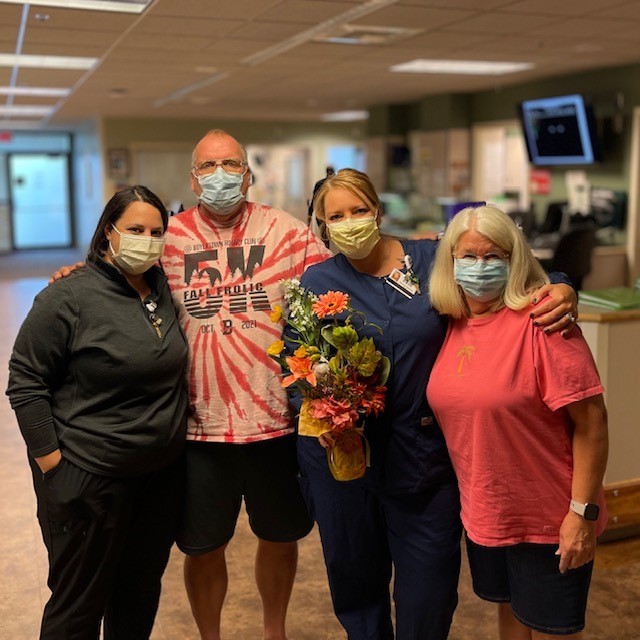 Success Spotlight: Stanley (Stan)
"On a scale of 1 to 100, the care I received at St. Joe's was 150!"
Stanley (Stan) and his wife, Karen, live in Pennsylvania. Although he has been battling bone marrow cancer, he was determined to take part in a 10-year reunion of a close group of companions that had rafted together down the Grand Canyon. Making it to the reunion would include a trip across the country, with a desired visit to Yellowstone and stops to visit friends along the way.
In order for Stan to be able to make the trip in an RV as planned, he would need to have injections administered while away from his oncologist to stay on his treatment schedule. Stanley and Karen found St. Joseph Regional Medical Center on the internet and spoke with the director of perioperative services who, after hearing their story, helped develop a plan to allow Stan and Karen to fulfill their "trip of a lifetime." The team at St. Joe's worked closely with Stan's oncologist in Pennsylvania and Stan and Karen began their journey knowing that his cancer treatments would not be interrupted and that they would be able to fully enjoy their trip.
"The team at St. Joe's truly went above and beyond anything we could have expected," Stan shared. "On a scale of 1 to 100, the care I received at St. Joe's was 150! And although I don't know what tomorrow will bring, I want to live the best I can and enjoy life. Wendy, Chris, Bre, Alyssa, Miranda and the entire team made that possible, and I am grateful for the great care and patient service I received."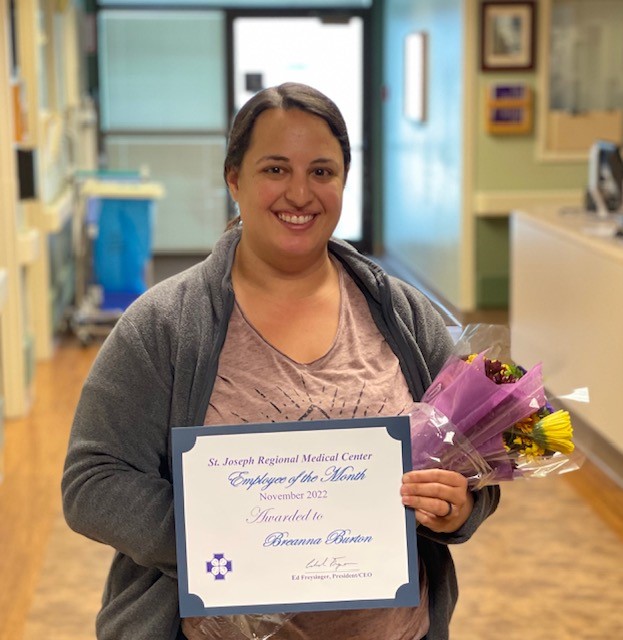 In part for being one of the key team members in Stan's care, Breanna (Bre) was recognized shortly after as St. Joe's Employee of the Month.
Stan and Karen were greeted with Bre's can-do spirit and warm welcome. She made contact with Stan's oncology office and after many conversations, explanations, communications and checks along the way, the team determined Stan's request was possible. Bre's commitment to follow through and intentional planning helped secure the necessary authorizations and made sure that there would be no problems processing his insurance.
Stan and Karen shared this about their experience, "Bre was a kind person who took our unique situation and made it her own, she showed compassion, kindness and a sincere commitment to our needs." And, while it was a true team effort that made Stan's care possible, the department director shared that Bre unselfishly when above and beyond coming to work on a scheduled day off to ensure Stan's last injection was managed with the ease and continuity he was expecting.
Bre is an employee that works extremely hard to make patients feel accepted, appreciated, acknowledged and cared for while receiving treatment. Bre helped Stan, comforted Karen and she provides every patient with the compassion, care and respect they deserve.
Thank you, Bre, for your unwavering commitment to a positive patient experience. And, thank you Stan and Karen for choosing St. Joe's!
Be Well. Live Well. That's why we're here.
Read All Posts